Celebrating Young Talent: 7 and 10 Year Old Authors Set a New Record at Women's Basketball Hall of Fame
Young Authors Make History at Women's Basketball Hall of Fame with Inspiring Book Signing Event; I Am Possible Enterprise and Hall of Famers Unite to Inspire.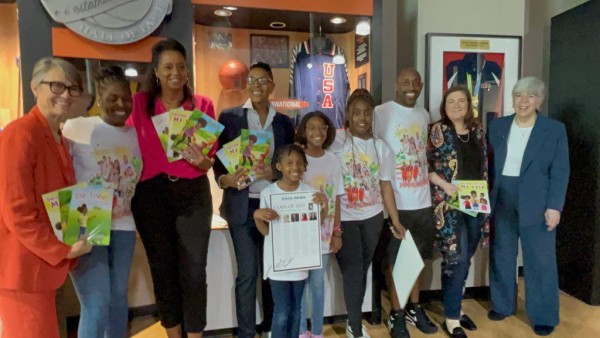 In a truly inspiring event that celebrates the power of young minds and the triumph over adversity, a group of talented young authors achieved an incredible feat by hosting a book signing at the prestigious Women's Basketball Hall of Fame induction ceremony. The event brought together the remarkable accomplishments of these young authors and the legendary Hall of Famers, inspiring generations to come.
The book signing event, organized by I Am Possible Enterprise, showcased the creativity and determination of these exceptional young writers. Their books explored important themes, resonating with the experiences and challenges faced by the esteemed inductees of the Women's Basketball Hall of Fame.
"Girls Fall Down Sometimes" is a moving book that highlights how young ladies face and overcome adversity. The Hall of Fame Inductees, who experienced numerous forms of challenges along their own journeys, were particularly inspired by this book. They shared personal stories about their mental health struggles, emphasizing its crucial role in accomplishing goals.
The book "Switching up my Hair" promotes self-assurance despite societal norms. The inductees found this issue especially touching because women's basketball players frequently deal with particular difficulties and societal expectations. These difficulties were expertly handled by the young authors, who also provided readers with uplifting messages.
"Be Free Just Do It Your Way" deeply resonated with Carolyn Peck, the first black woman to win an NCAA women's basketball tournament championship. In her induction speech, she spoke about the significance of being the first and the importance of breaking barriers. She had the opportunity to connect with the young authors and congratulate them on their historic achievement of becoming the first children to host a book signing at the Women's Basketball Hall of Fame induction ceremony.
The collaboration between I Am Possible Enterprise and the Women's Basketball Hall of Fame is an example of how both organizations are dedicated to inspiring young people and establishing an inclusive culture where people of all ages and backgrounds may pursue their aspirations and celebrate their accomplishments.
"We are thrilled to witness this historic event where the next generation of authors takes center stage at the Women's Basketball Hall of Fame," said Candace Smith, spokesperson for I Am Possible Enterprise. "These exceptional young authors have proven that age is no barrier to creativity and success, and their stories will undoubtedly inspire others to pursue their own dreams."
Young readers, aspiring writers, and book lovers had the opportunity to speak with the outstanding authors, learn about their inspirational journeys, and buy autographed copies of their works at the book signing event, which was held at the induction ceremony.
This remarkable event provides proof of the unlimited possibilities contained within each child's imagination in addition to showcasing the incredible talent of these young authors. These youthful authors are shaping history and influencing future generations through their writings.
For more information about I Am Possible Enterprise and the incredible achievements of these young authors, please visit Home – Girls Fall Down Sometimes (publishedat9.com)
About I Am Possible Enterprise:
I Am Possible Enterprise is an organization committed to empowering young individuals and nurturing their talents and aspirations. Through various programs and initiatives, I Am Possible Enterprise aims to unlock the potential within every child and provide them with the tools and support they need to succeed. To learn more, please visit https://iampossibleenterprise.com/
Media Contact
Company Name: I AM Possible Enterprise
Contact Person: Candace Smith
Email: Send Email
Country: United States
Website: publishedat9.com